Posted on Apr 16 at 11:52 AM. Last edited on Jul 01 at 17:40 PM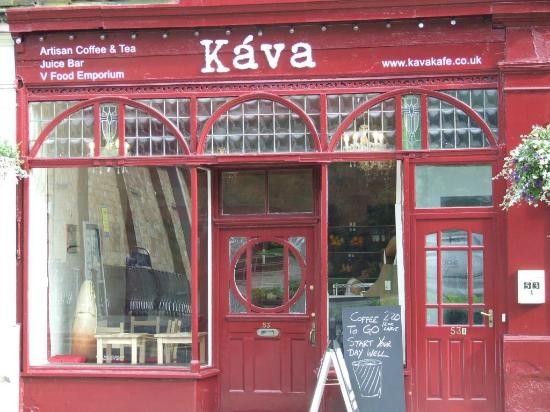 Káva: We are a family run coffee house.
I have many years experience as a barrista and chef, working in Sydney, Melbourne and Prague. .oh, and of course Manchester. I designed and implemented Fuel cafe bar in Withington, running the business for it's first 6 years, before emigrating to Sydney.
I worked there for about 5 years, then moved to Prague, where I met my wife Sveta.
Whilst operating Fuel, I opened "Kaleida" a live music venue on Tib St (now matt & phreds)
Sveta and I are both musicians, and share a love of music, with a passion for coffee culture.
Sveta trained as a classical violinist, then taught violin and piano for 10 years in Kiev.
I worked as a musician, sound engineer and producer for many years in Manchester.
I would guess that I am best known as being a founder member of "The Smiths", although I also worked with Nico and engineered and produced albums for the New Hormones record label.
The food I cook in the Káva kitchen is the same food I would cook and eat at home, the only oil in the kitchen is Olive oil, the ingredients are fresh daily, I cook, juice and feed to order.
We operate a vegetarian menu, I am a lifelong vegetarian and would not know how to cook meat. I view vegetarian food as a cuisine, not a political statement.
The word Káva is used in the Czech republic, it simply translates to "coffee", derivatives of this word can be found in most of the languages of Eastern Europe
Opening Times:
Monday - Closed
Tuesday - Saturday 09:00 - 17:00 ish
Sunday 09:30 - 16:00
---
Contact
Káva
53 Halifax Road
Todmorden
West Yorkshire
OL14 5BB
---
Map