by Shaun
Posted on Feb 27, 2019 at 13:08 PM
The Tour de Yorkshire, held by Amaury Sport Organisation (ASO) and Welcome to Yorkshire will be venturing into Calderdale for a fourth time in 2019!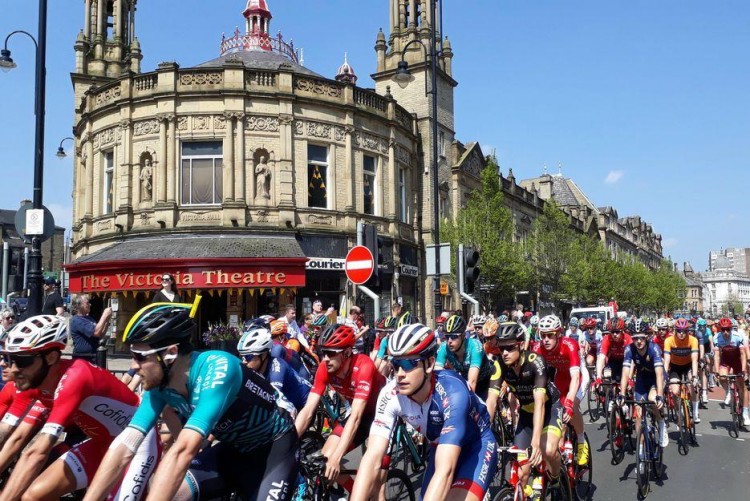 The race will set off from The Piece Hall in Halifax on Sunday 5 May 2019.
Calderdale Route
Cyclists will exit the south gate of The Piece Hall, across Cross Street and turn left onto Horton Street before turning left onto Square Road. They will ascend Winding Road and take a left onto Commercial Street before passing The Victoria Theatre en route to Skircoat Road. The race then bears right onto Heath Road before turning right onto Free School Lane and past Savile Park. At King Cross the peloton will turn right and travel along Aachen and Burdock Way before reaching the large roundabout where the race will turn left onto Ovenden Road. The peloton will head up Shay Lane and continue up Holdsworth Road to enter the pretty village of Bradshaw, before leaving Calderdale at Green Lane on towards Haworth.
There's lots of information available about the race on the Visit Calderdale website which will have regular updates as the race draws closer and more detailed route information can be found on Welcome to Yorkshire's website.
Tour de Yorkshire Trophy Tour
In advance of the big day, Halifax welcomes the Tour de Yorkshire trophy which will be on display in The Welcome Centre at The Piece Hall on Wednesday 13 March from 9.30am-4.30pm.
The gold-plated trophies were designed and made by hand at world leading trophy makers Thomas Fattorini Ltd, which was founded in 1827 by Antonio Fattorini - an Italian immigrant who settled in Yorkshire.
A member of Welcome to Yorkshire will be on hand to tell you all about the trophy and the Tour de Yorkshire plus the branded Welcome to Yorkshire car featuring the distinctive giant 'Y' will also be in the courtyard for photos.
Tour Makers Wanted
Yorkshire is playing host to not one, but two, major sporting events in 2019 and Welcome to Yorkshire has a number of volunteering opportunities which will place you at the heart of the action.
With the world's best road cyclists, teams and several million spectators visiting Yorkshire during the year they're on the look out for passionate and reliable volunteers to give the best possible welcome.
For information on the TdY see: Tour de Yorkshire (2-5 May 2019) and for the UCI World Championships see: the UCI Road World Championships (21-29 September 2019).
Ride the Tour de Yorkshire: Halifax closed road guided rides
In the spirit of all things cycling on Tour de Yorkshire day in Halifax, we are offering you the opportunity to ride a 1km closed road circuit in Halifax town centre, escorted by British Cycling Ride Leaders. We will have bikes available to use from the Active Calderdale Bike Libraries.
There are several rides each lasting 15 mins, with 16 places available on each ride. The registration tent & start / finish area will be situated on Southgate, outside Wilko and the east entrance of Halifax Borough Market. Please arrive 15 mins before your start time to check in and be allocated a bike.
All children must be accompanied by an adult riding. Children must be able to ride a pedal bike, no stabilisers due to the section of cobbles.
We will also have a cycle track for under 5s in Westgate Arcade from 9.30-3pm on a drop in basis with bikes and helmets available.
About the Author

Shaun lives in Todmorden so he can just nip out the door on his mountain bike but rarely gets the chance as he's too busy messing about with computers. He's an admin here at CycleCALDERDALE.co.uk
http://aegisdesign.co.uk