by Shaun
Posted on Dec 02, 2016 at 12:20 PM
The Tour de Yorkshire, held by Amaury Sport Organisation (ASO) and Welcome to Yorkshire will be venturing into Calderdale for a second time in 2017!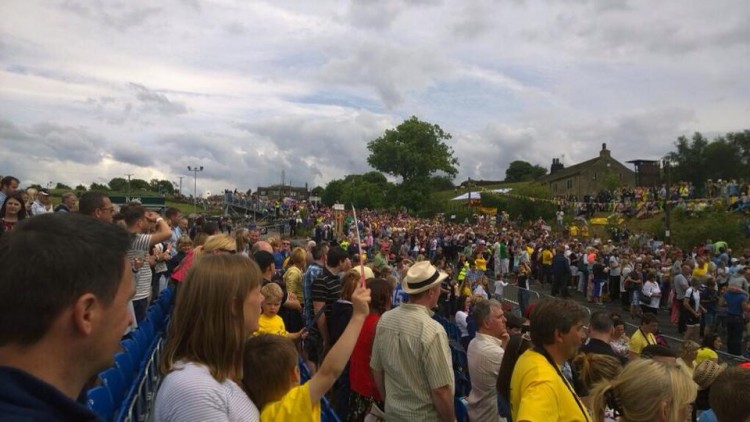 Yorkshire host towns have been unveiled and racing for the third edition of Tour de Yorkshire will begin or end in Bradford, Bridlington, Fox Valley (Sheffield), Harrogate, Scarborough and Tadcaster. The race will be held from Friday, April 28 to Sunday, April 30, with the women's race held on Saturday, April 29.
The route through Calderdale
Calderdale welcomes the third stage of the race on Sunday 30 April, this time through the lower valley. The race starts in Bradford and enters the borough from Northowram, descending into Stump Cross before turning right and past Shibden Mill Inn. Cyclists will then make the sharp, steep, cobbled ascent up Lee Lane, more commonly known as Shibden Wall. This 0.8km climb at 15.5% gradient is a beast! Some may remember this section of route featured in the 1988 Milk Race and proved so tough that the riders of the 1988 Kellogg's Tour (Sean Kelly, no less) climbed up on the pavement, resulting in a satisfying Mexican wave of spectators pirouetting off the asphalt and onto the cobbles to watch the thin line, featuring Joey McLoughlin and Yvon Madiot, ride up to the summit.
Following this King of the Mountains climb cyclists descend into Halifax, skirt the town and make their way up Beacon Hill Road and out towards Southowram. Riders will then race towards Brighouse, through the town and out through Clifton before entering Kirklees.
More detailed route information can be found here.
About the Author

Shaun lives in Todmorden so he can just nip out the door on his mountain bike but rarely gets the chance as he's too busy messing about with computers. He's an admin here at CycleCALDERDALE.co.uk
http://aegisdesign.co.uk