by Shaun
Posted on Apr 01, 2017 at 00:27 AM
CityConnect are running two consultation events to discuss proposed improvements to the Calder Hebble Navigation. Get along to the consultation event and have your say or you can comment online.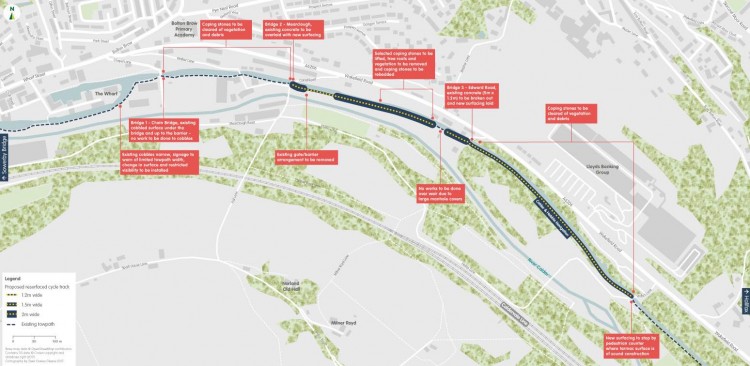 This scheme will deliver improvements to a stretch of the Calder Hebble Navigation, approximately 2km between Bridge 1 at Sowerby Bridge Basin and Hollas Lane Bridge.The improvements are an element of the Canals project, a programme of works across West Yorkshire being delivered as part of the second phase of CityConnect, in partnership with Canal and River Trust and Calderdale Council.
Upgrades to the towpath will provide local communities with a convenient option to travel away from the roads for utility, employment or leisure. CityConnect is committed to improving cycling routes around West Yorkshire and is working towards the vision of West Yorkshire being recognised as a great region for cycling.
Public consultation for the scheme opens on Monday 27 March and will take place for 3 weeks, until 16 April. During the consultation there will be two public consultation events; people are invited to come and view the plans, meet the CityConnect Team and the Canal and River Trust designers and leave their feedback.
Local events will take place on the following dates:
Thursday 6 April in Sowerby Bridge at Happy Days Cycles, Town Hall Street from 4pm until 7pm
Tuesday 11 April in Sowerby Bridge Wharf at Cobblestones Bar and Grill from 11:30am until 2:30pm
About the Author

Shaun lives in Todmorden so he can just nip out the door on his mountain bike but rarely gets the chance as he's too busy messing about with computers. He's an admin here at CycleCALDERDALE.co.uk
http://aegisdesign.co.uk