by Eleanor
Posted on Jul 08, 2014 at 12:44 PM
We walked and we waited, but it was totally worth it…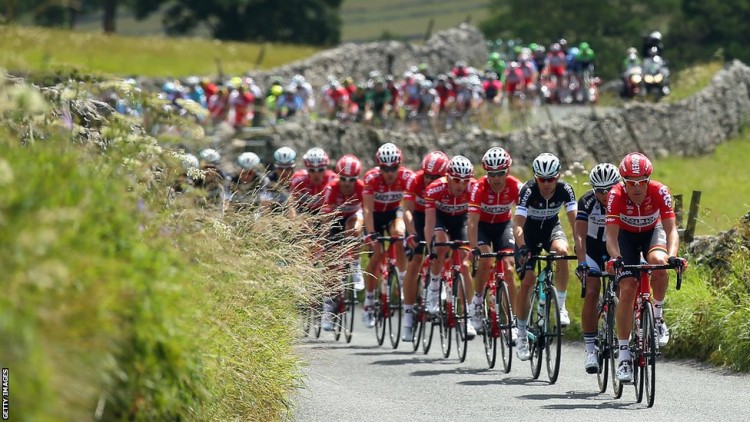 I was born in Calderdale and I've lived in Calderdale all my life. My family and I was very excited to hear that Le Tour de France was visiting the North of England for the first time and coming through my home town, even though I got forced out of bed to go watch it! As the 6th of July was creeping nearer, bunting, yellow bicycles and other decorations were getting put up around Calderdale to attract tourists and to lift the spirits of us Yorkshire folk! We all had our fingers crossed that the weather would be nice and warm, but even if it rained, nothing would stop us from going to watch and to support the whole event!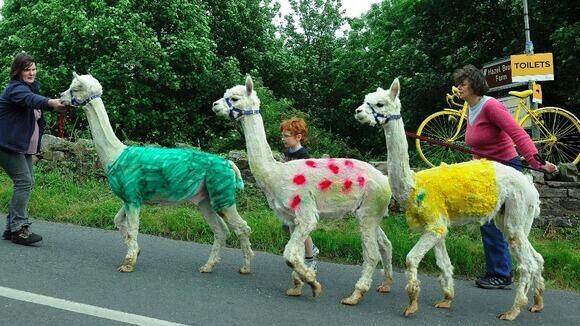 On Sunday morning, the 6th July, I had changed my mind and I did not want to go, forgetting that it would be a great atmosphere and it would be a great experience to remember. However, after seeing the beautiful weather shine through my window and getting forced out of bed, mentioned previously, I went!
As my mom, my sister and I walked to our destination, you could feel the excitement amongst all villagers and tourists! Ripponden was beautifully decorated, as were many other Tour de France destinations in Calderdale, and the crowds that filled the pavements made the whole experience much better! Finally, we had found a nice spot on Ripponden Bank, which wasn't too crowded and we knew that when the tour came past us, we would have the perfect view. Ripponden Bank was a King of the Mountains climb and was full of spectators. It has a steep corner and lead up to The Fleece Inn, which on the day had an outdoor bar, an outdoor screen showing where the Peloton currently was, burger stands and much more! The funny thing is, we saw a frog hopping up the route!
We were at the front, it was definitely the perfect view of the sponsor caravane, a great spectacle and family attraction where we could get our hands on some Le Tour 'goodies'. We managed to catch a few by waving our arms about like crazy, these included three Chapeau's, a keyring, a wrist band and a few more bits and bobs, not to mention the fruit shoot, which I caught from the giant fruit shoot float.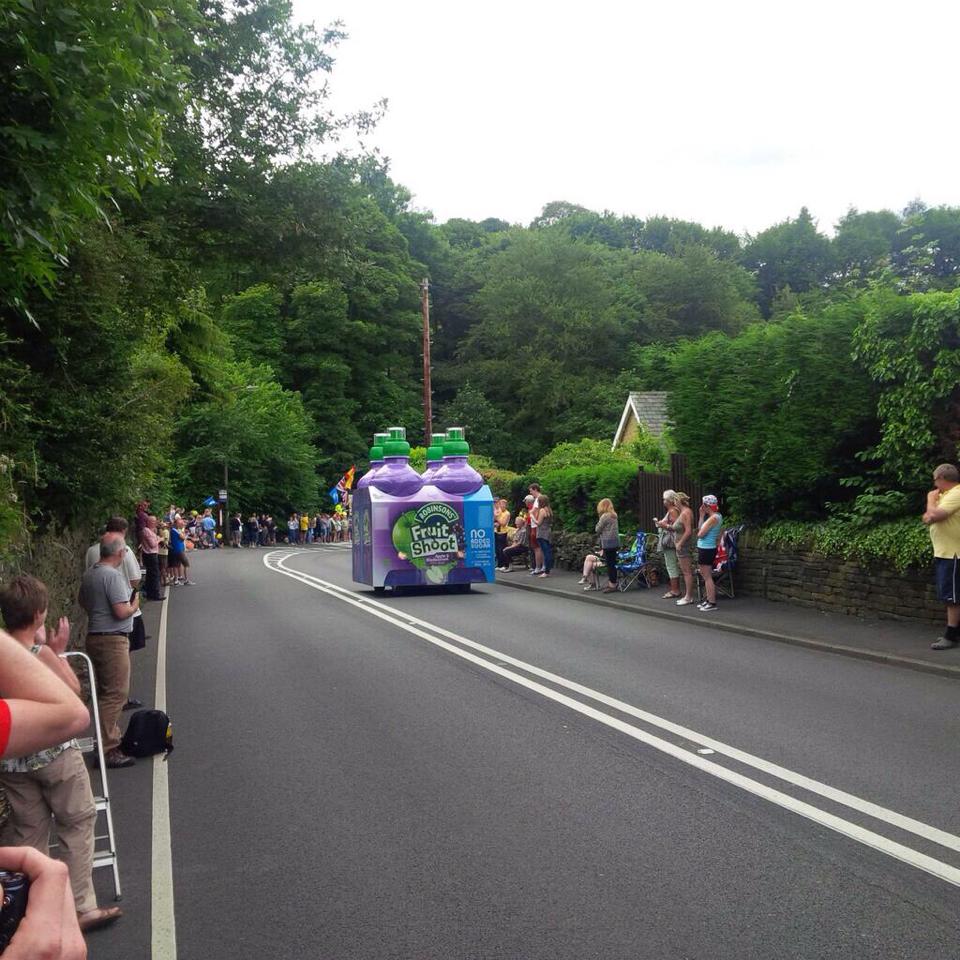 There were hundreds of vehicles in the convoy: the caravane, police bikes, sponsor cars and gendarmes, which all of us cheered with excitement! We were told by the people next to us that the Peloton was on its way up Cragg Vale and would be in Ripponden soon. We were thrilled to hear that they were near and would be cycling past us very soon!
Then the moment came. We heard roars of excitement, cheers and applaud coming from the bottom of Ripponden bank, the Peloton was here! As they cycled past us, the crowds went wild! The atmosphere was absolutely great, it was a wonderful experience never to forget!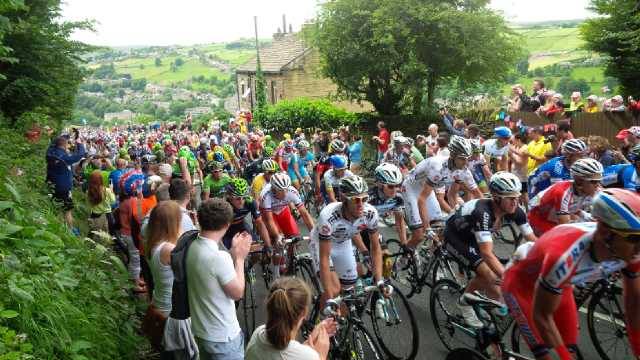 From my point of view, they cycled past me pretty fast, I had to step right back onto the grass verge as I thought I was going to get knocked over, the cyclists were so close! As the Peloton reached The Fleece Inn, however, the crowds were too close and as a result, one of the cyclists knocked a spectator's phone from his hands!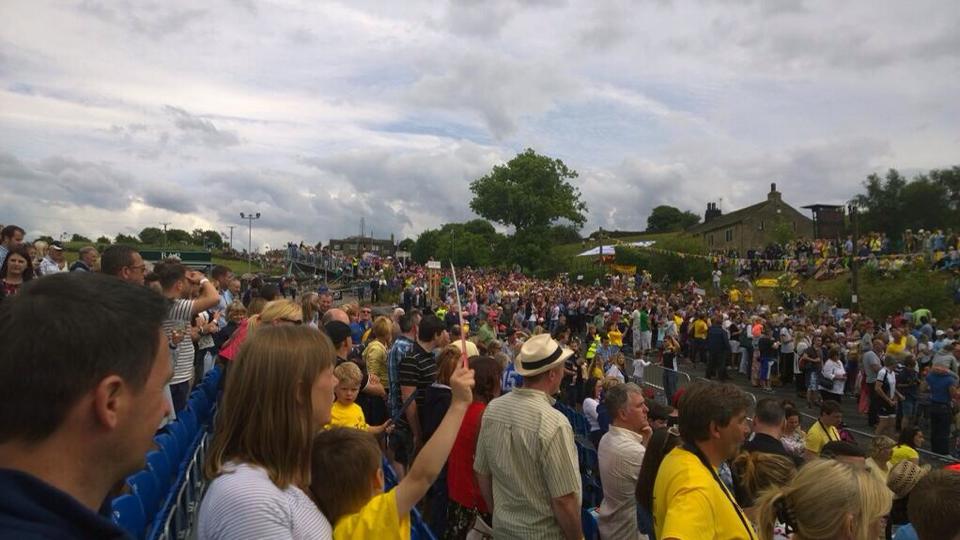 Everyone was shouting "allez!" which means go in french, or "come on!", which showed great support and encouragement from the people of Yorkshire! After the Peloton had flown by, we waited for the Broom Wagon to pass so we knew it had finished in Ripponden so we could set off home!
The Peloton is made up of teams, for example, Team Sky, Team Netapp, Astana Pro Team, BMC Racing Team and AG2R La Mondiale which I remember specifically seeing as one of the team riders was near me and I remember seeing his brown and white jersey! The Calderdale route was part of Stage 2. It went from York to Sheffield, travelling through Hebden Bridge, Cragg Vale and Ripponden. Vincenzo Nibali crossed the finish line in Sheffield, taking 1st place and the yellow Jersey, le maillot jaune! Overall, it was seriously, hands down, one of the best experiences I have ever had and I'm sure all the other tour spectators would agree with me! We walked and we waited, but it was totally worth it!