by Shaun
Posted on Apr 18, 2017 at 16:44 PM
West Yorkshire Fire and Rescue Service (WYFRS) is going to give young people the opportunity to get cycling as it launches two Bike Libraries as part of the Welcome to Yorkshire Bike Libraries Scheme.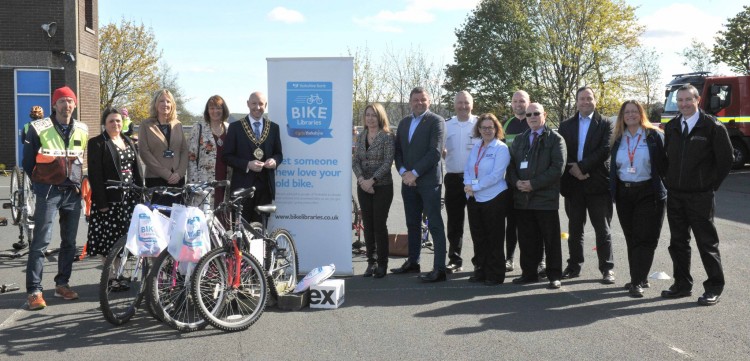 The new Bike Libraries have been officially launched today (18 April) by the Mayor of Calderdale, Councillor Howard Blagbrough, at Halifax Fire Station.
The scheme, started by Yorkshire Bank, is the world's first bike bank scheme and sees people donate unwanted bikes which are then fixed up and available to hire free of charge.
Halifax Fire Station, King Cross, and Illingworth Fire Station, on Keighley Road will loan bikes out once a month. The loans can be for a few days or long-term.
WYFRS will run the Bike Libraries in partnership with Welcome to Yorkshire and Calderdale Council. As well as offering free bike loans for children and families there will be: bike safety advice, affordable bike repairs, servicing and Bikeability courses.
The service are launching the bike libraries following a successful grant bid by WYFRS's Calderdale district and Calderdale Council with Yorkshire Bank.
Since the first Yorkshire Bank Bike Library opened last year, 38 have launched across the county, nearly 5,000 bikes have been donated and more than 36,000 chances to ride a bike have been offered to children.
Station commander for Halifax and Illingworth, Dominic Furby, said: "We are delighted to be a part of this fantastic scheme and have had over 120 bikes donated to us from across the county.
"I hope the addition of our Halifax and Illingworth fire stations into the Bike Libraries scheme will get more children and families from Calderdale on their bikes!"
Sir Gary Verity, Chief Executive of Welcome to Yorkshire, said: "The Yorkshire Bank Bike Libraries is a truly unique scheme launched as a legacy of the Tour de France and Tour de Yorkshire, designed to give every child in Yorkshire access to a bike, regardless of their circumstances.
"I am delighted to see two new bike libraries launching in Calderdale and I hope it will inspire the next generation of cyclists to discover the joy of riding a bike for themselves."
People eligible to loan a bike include:
Children in the Cycling to School Scheme
Parents and children using the scheme who want to go on family trips
Fire Service staff can use the scheme
Tourism, this will be linked to Calderdale Tourism so people coming into Calderdale can also loan bikes
Partnership groups will also be using the bikes for fitness and learning
For more information, visit bikelibraries.yorkshire.com
About the Author

Shaun lives in Todmorden so he can just nip out the door on his mountain bike but rarely gets the chance as he's too busy messing about with computers. He's an admin here at CycleCALDERDALE.co.uk
http://aegisdesign.co.uk