by Shaun
Posted on Nov 30, 2016 at 10:27 AM
CityConnect are running three consultation events to discuss proposed improvements to the Rochdale Canal towpath running between Sowerby Bridge to Todmorden. Get along to the consultation event and have your say or you can comment online.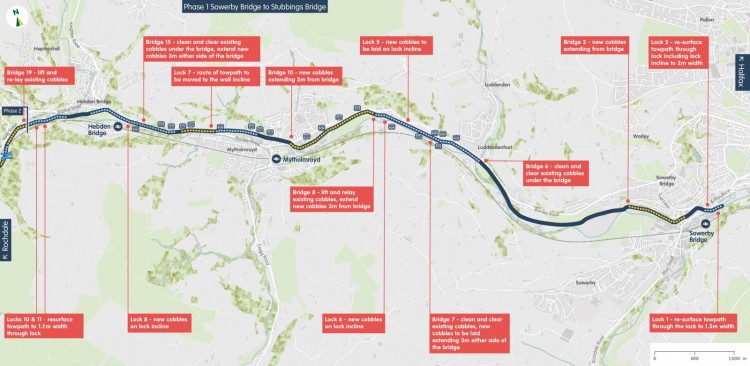 This scheme will deliver approximately 13km of upgrades to an important section of Rochdale Canal, some of which is currently in a very poor state of repair.
It would involve the upgrade of an off- highway cycle route from Lock 1 in Sowerby Bridge to the entrance to the canal towpath at the end of Union Street, Lock 18 in Todmorden, through the towns of Luddenden Foot, Mytholmroyd and Hebden Bridge. The goal of the scheme is to enable the towpath to be used safely and comfortably by cyclists and pedestrians all year round. The upgraded towpath will provide the communities along this route with a convenient option to travel between them away from the roads for leisure, utility or employment. It will also improve the connectivity to a number of off-highway cycle routes in the local area.
This scheme will be delivered in two phases, shown on the maps below. Please see below the below the maps for more details on the improvements.
During the public consultation period (28th November to 11th December) you can comment on the maps by clicking on the 'Leave Comment' button at the CityConnect website at http://cyclecityconnect.co.uk/projects/calderdale-canals/
.
The are three public consultation events;
• Wednesday 30 November, Trades Club, Holme Street, Hebden Bridge from 4.30pm to 7.30pm
• Thursday 1 December, Happy Days Café, Town Hall Street, Sowerby Bridge from 4.30pm to 7.30pm
• Friday 2 December, Town Hall, Bridge Street, Todmorden from 4.30pm to 7.30pm **RESCHEDULED** - Thursday 8 December from 4pm to 7pm.
The improvements to be delivered as part of this scheme will include re-surfacing, re-pointing of some cobbled areas, clearing excessive vegetation, signage and drainage improvements. The works on this will interface with the flood remediation works in Calderdale being undertaken by Canal and River Trust and Calderdale MBC, which are being funded through separate grant funding from DfT.
The material used to resurface improve the towpath has been chosen according to the Canal and River Trust Design Standards 2013, it will be a self-binding aggregate which is well suited to a semi-rural environment such as this. Where required along the stretch, sections of the canal wash wall will be rebuilt using salvaged stone from the canal. Where possible the towpath will be widened to improve accessibility for all users, in some areas the width may be limited by physical or environmental barriers
All CityConnect2 schemes are anticipated to be complete by summer 2018. During this period Canal and River Trust will review their signage strategy to support all users of the canal towpaths.
UPDATE: The Todmorden consultation meeting on December 2nd has been rescheduled for Thursday 8 December from 4pm to 7pm.
About the Author

Shaun lives in Todmorden so he can just nip out the door on his mountain bike but rarely gets the chance as he's too busy messing about with computers. He's an admin here at CycleCALDERDALE.co.uk
http://aegisdesign.co.uk